Youth Art Exchange
San Francisco, CA
YAX Public Art Internship

Faculty Artists: Alyssa Aviles & Logan Kelley

Student Artists: Emma B., Esther Z., Joaquin A., Katheryn A., Koto G., Lucy M., Melody B., Monica C., & Sid P.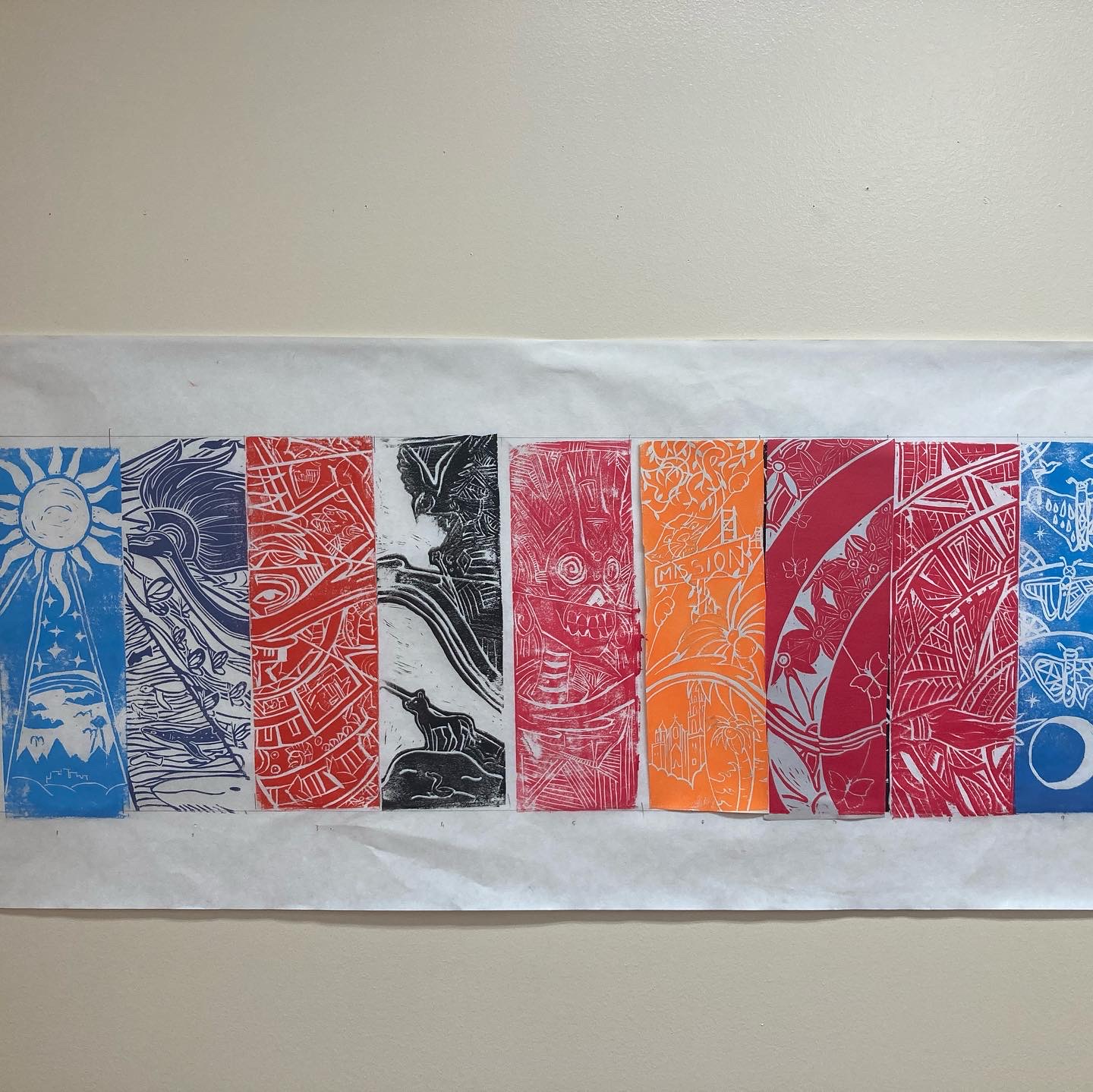 Funded through the City of San Francisco's 1% for Art program, this class is designing metal paneling that will clad a new gate at Casa Adelante - 681 Florida Street, a new affordable housing building in the Mission District co-owned by the local, non-profit organizations Mission Economic Development Agency (MEDA) and Tenderloin Neighborhood Development Corporation (TNDC).
The gate is approximately 24 feet wide by 12 feet tall, and will be the front entrance of a community arts and wellness hub by Carnaval SF, an iconic San Francisco arts, health, and community organization. The metal panels will be lasercut and finished by local metal fabricators, and installed by the building contractor. YAX students have met with TNDC, MEDA, and Carnaval in a series of design sessions, working independently and as a team to develop an overall concept for the metal panels that depicts the richness and diversity of the Mission and of Carnaval. Students have explored design through research, hand drawing, block carving, block printing, and digital research. Design work will continue into the new year, at which point the design will be digitally translated and prepared for fabrication. Installation is expected by summer of 2022, with the building grand opening in fall 2022.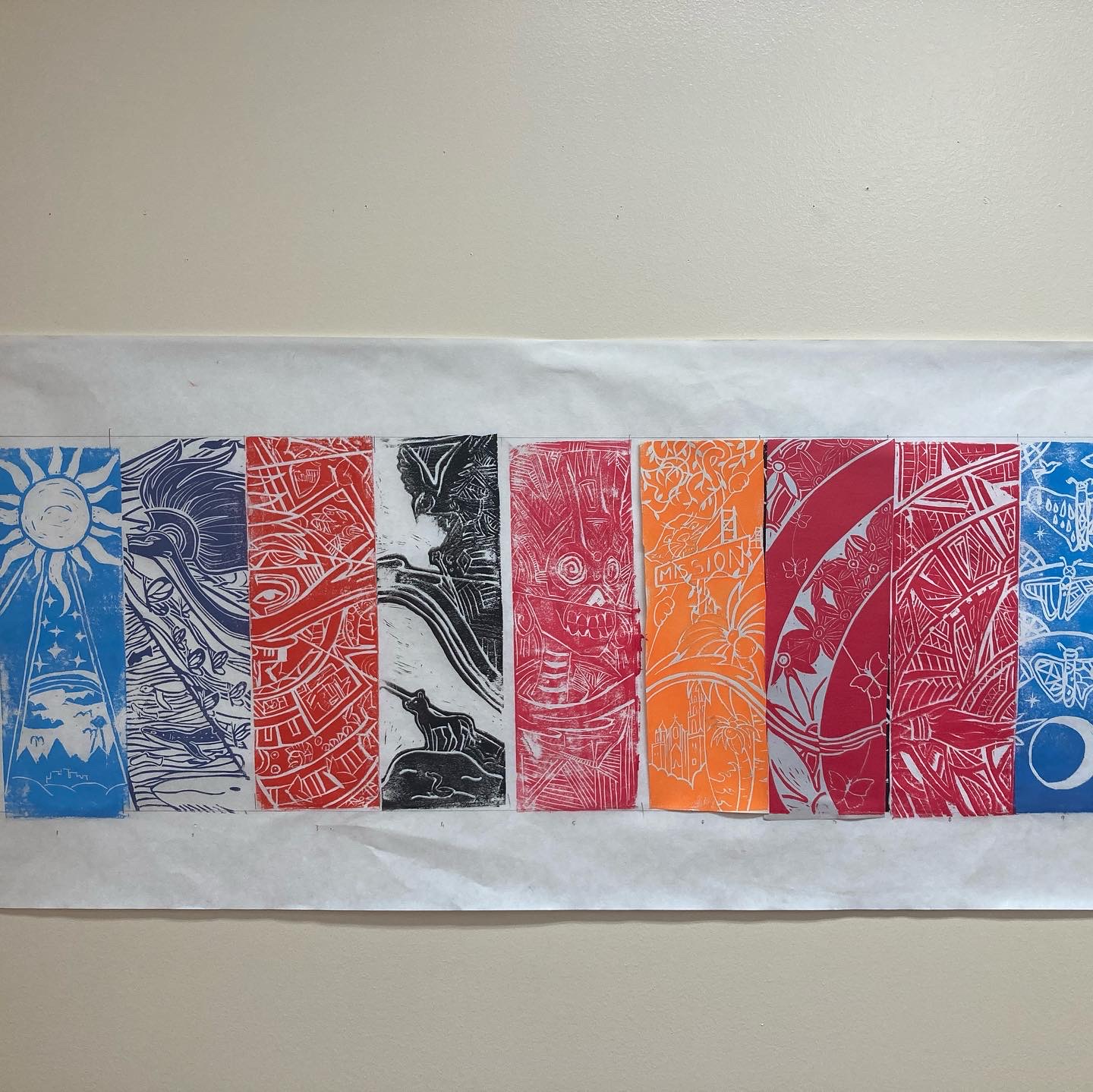 A multi-colored test print of the overall design
As a unifying concept, the students chose Quetzalcoatl, the Aztec god of arts, crafts, and knowledge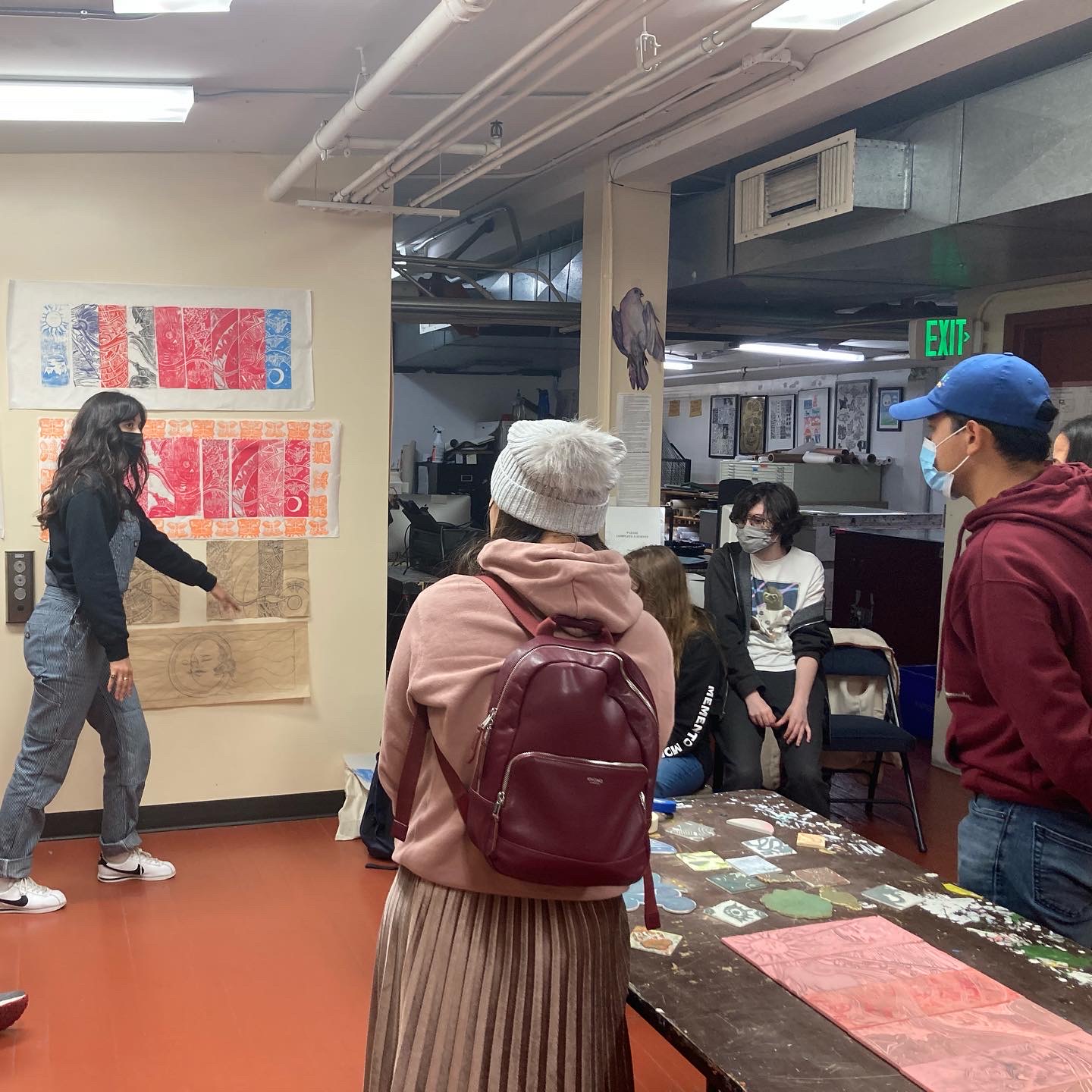 Faculty artist instructor Alyssa explaining the design process
Katheryn (student) explaining her concept to Rodrigo (Carnaval)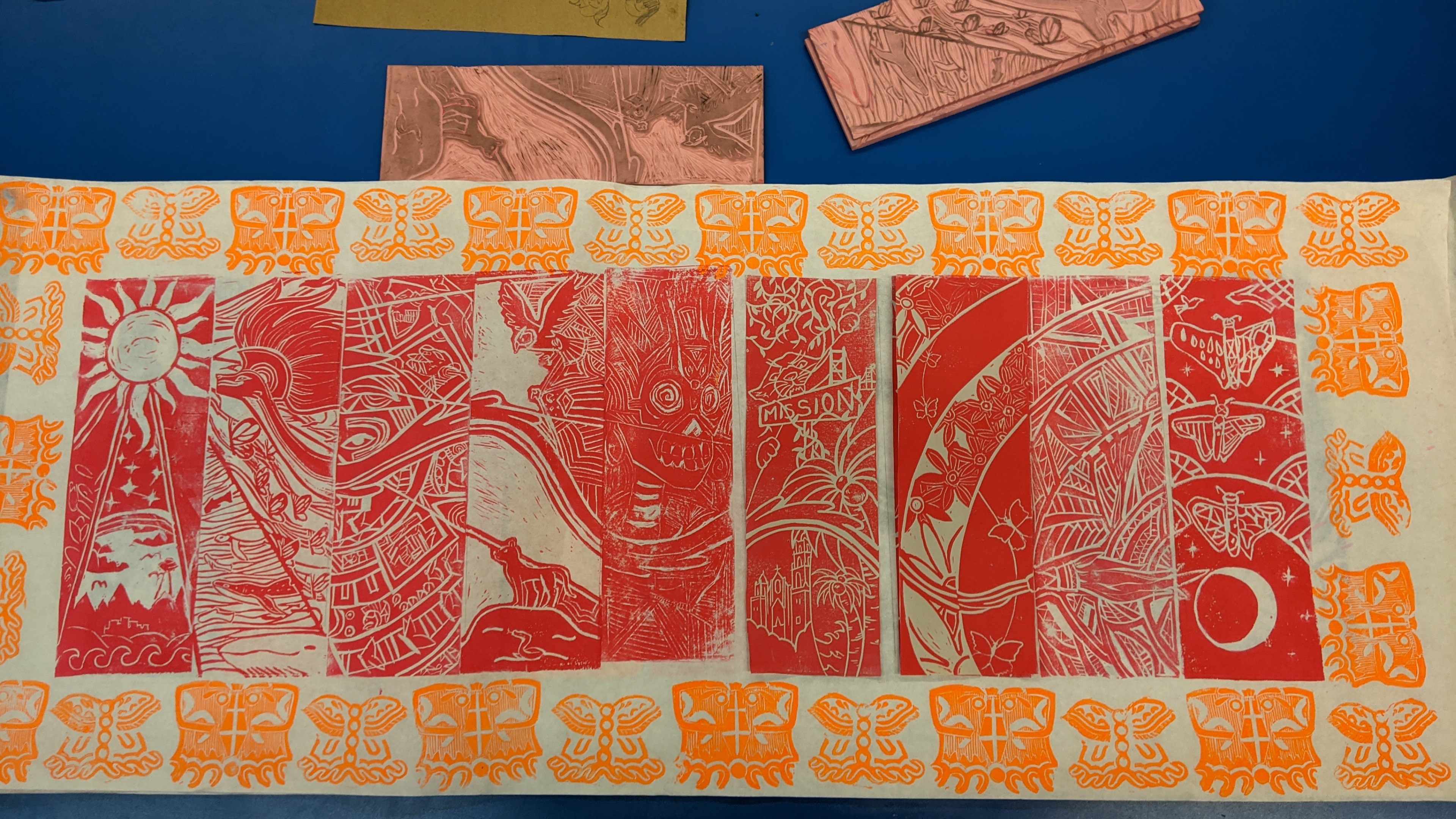 One of the many test prints of the overall gate design
Sid (student) explaining his concept to Rodrigo (Carnaval)
Student carved blocks, arranged in the overall design
Students aligned their individual designs to create an overall design for the gate
Students began by finding inspiration motifs from the Mission neighborhood other cultural touchpoints
Students gathered to begin the presentation to the building owners, TNDC and MEDA, and to Carnaval, the primary tenant
Students working on revisions to the overall design
Test prints of Lucy's design
The gate design is first sketched, then drawn onto newsprint to be transferred to the blocks
The overall design for the gate was tested in a variety of colors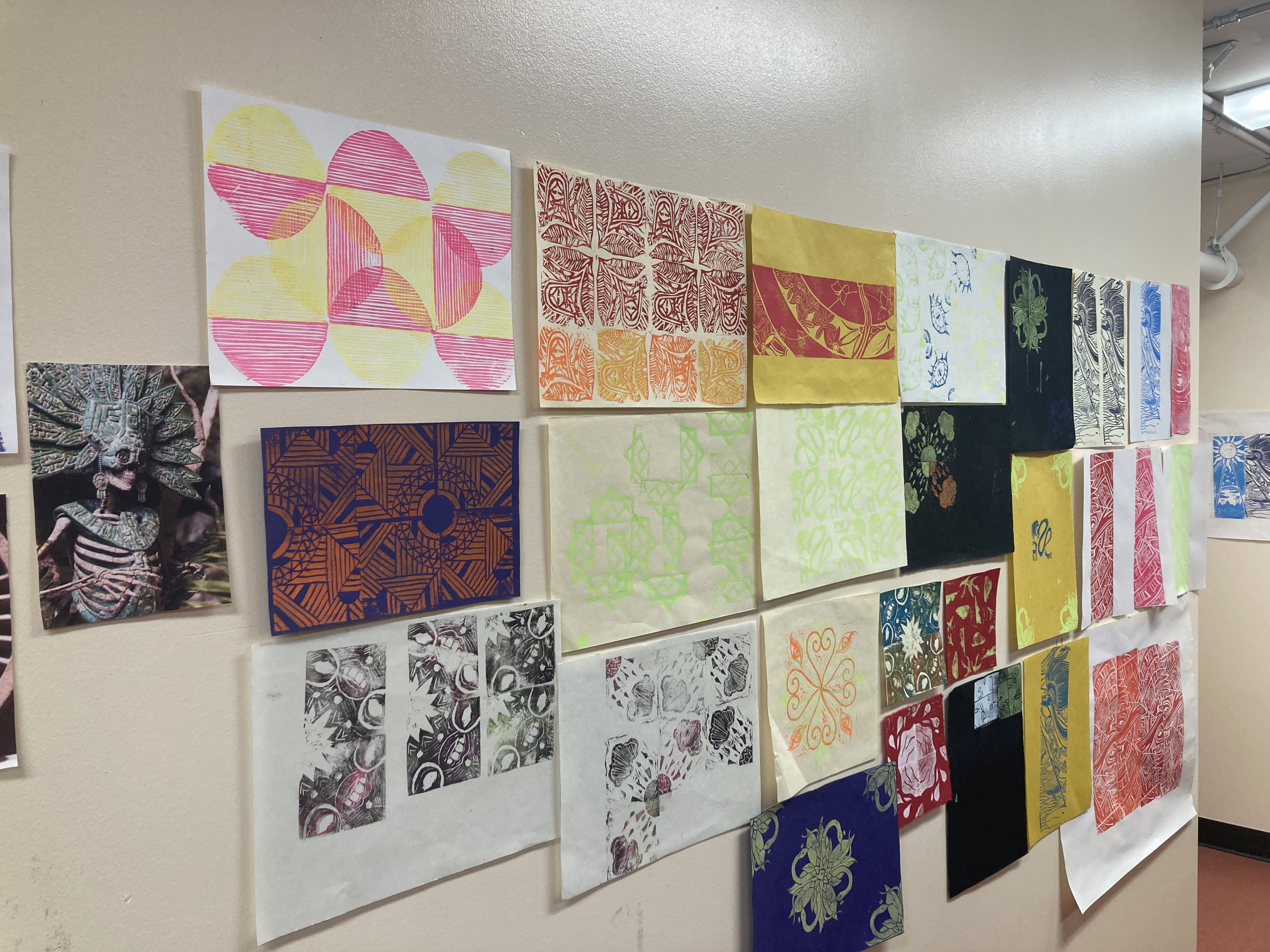 The students began the project learning to block print and referenced their cultural research
The students produced a variety of sketches and drawings to visualize the overall design
---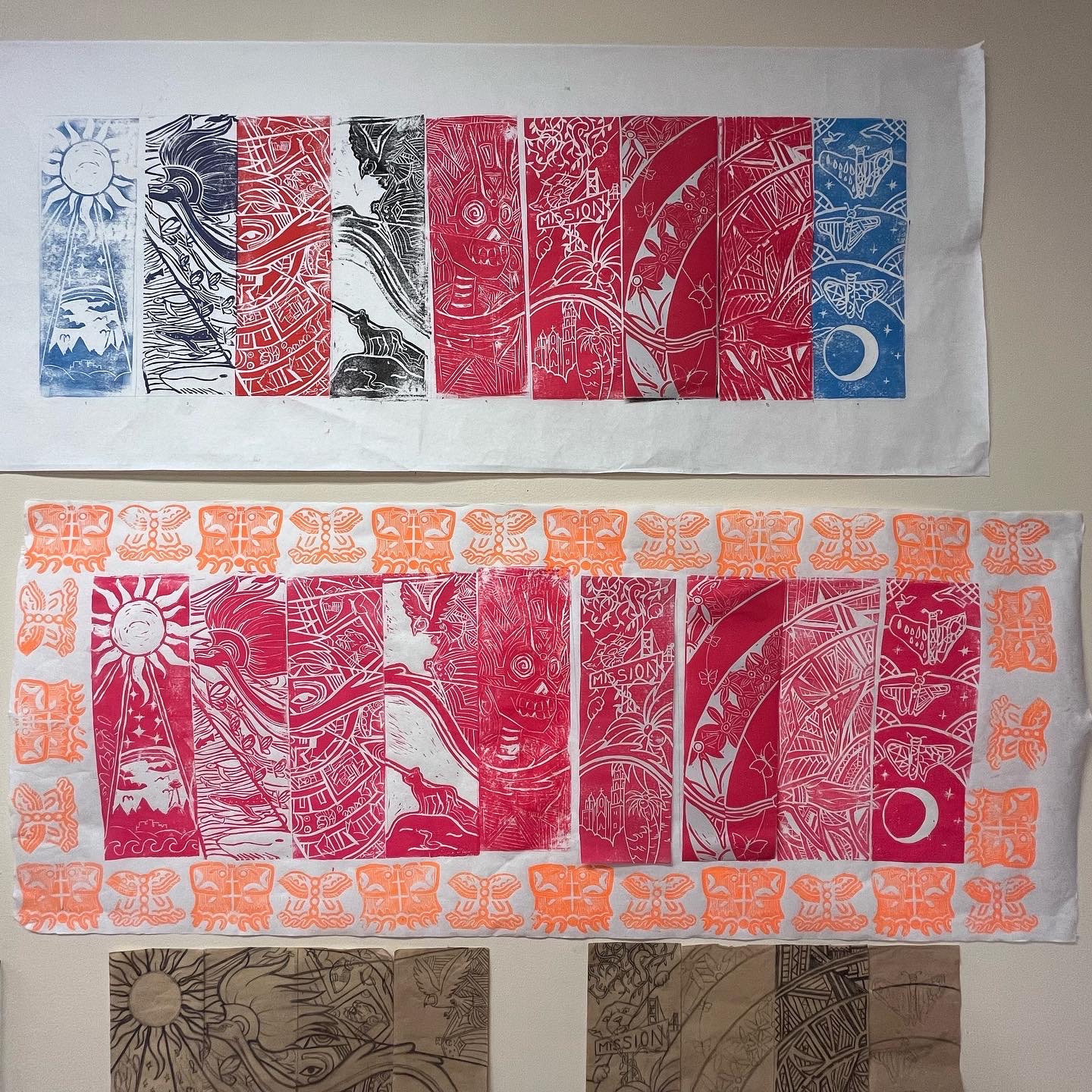 Two test prints of the overall design